Here's my 2016 Year In Review for South Boulder. You'll find facts and figures here of South Boulder single family home sales in 2016 as recorded by IRESIS, the Boulder Area Realtor® Association's multiple listing service (MLS), including information specific to fourteen South Boulder neighborhoods.
2016 was another year of excellent appreciation for South Boulder homeowners, fueled by record low inventory.  Our average sale price in South Boulder rose by 12% in in 2016, homes were sold in an average of 60 days, and Seller's obtained an average of 100.48% of their asking price in 2016.  Take a look at the information below…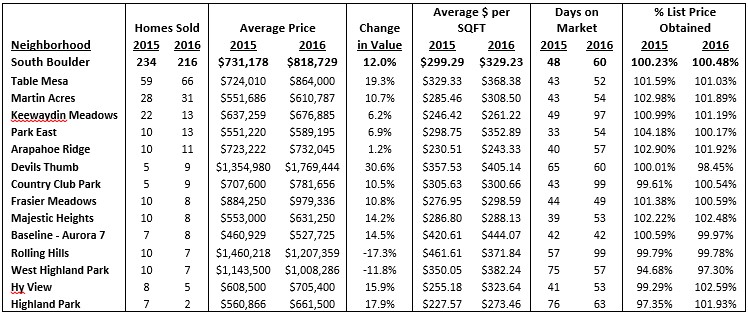 What will happen to the South Boulder real estate market in 2017?
The market is starting to show signs of slowing.  Even though our real estate market is strong right now, there are several data points indicating a shift, including; the rate of appreciation and time on market.  With rising interest rates and four years of strong appreciation, which has been the length of all our previous appreciation cycles over the past 40 years, it wouldn't be a surprise if the 1st and 2nd quarters in 2017 are the last of this appreciation cycle.

How does Boulder's market compare around the region and nation?
According to the most recent statistics kept by the National Association of Realtors® (NAR), of the 180 metropolitan statistical areas watched by NAR, 86.7% experienced increases in their median sale price from the 3rd quarter 2015 to the 3rd quarter 2016. Nationally, the median price rose by 7.6%. The Palm Bay/Melbourne, FL area saw the largest gain, up 18.7%, while the Binghamton, NY area dropped the most with a loss of -7.6%.  Boulder County came in 3rd best in the nation with a 14.7% increase.  To see how South Boulder and it's neighborhoods compare, check the statistics above to the information below for some of Boulder County's other communities, as well as other Northern Colorado Front Range communities.

The top 10 South Boulder Realtors® for the last 20 years: 1997 – 2016 South Boulder Home Sales

It's clear that Steve sell's substantially more South Boulder homes and sells the homes he has listed for closer to the asking price than any of the other top 10 Realtors®.  Over the last twenty years, the difference is pretty dramatic and can have a huge effect when you sell your home. Consider that a difference of just 1% closer to the asking price, calculated at our average sale price in South Boulder of $818,729, is equal to $8,187 more that his Seller's obtain when they sell their homes with Steve!
Steve Altermatt sold 23 homes in South Boulder in 2016!
Steve specializes in South Boulder home sales.  He pays very close attention to the details of our market so he can provide his clients with a decisive advantage, whether buying or selling a home in South Boulder.  The truest way to measure the effectiveness of a Realtor® to market and sell your home is to measure the success they've had working with sellers of homes in your neighborhood.
Why does Steve obtain the best results year after year in South Boulder?
Steve has specialized in South Boulder real estate and has lived in South Boulder for over 30 years.  He has a construction and design background, has volunteered in our community, neighborhoods, and schools, and has raised his family here.  This broad range of experience has given Steve comprehensive knowledge of our local real estate market, housing construction, and the inner workings of our neighborhoods, schools, and community.  The knowledge and experience he has gained by specializing in South Boulder single family home sales, his hard work ethic, and the sound, honest advice that he shares with his clients is a proven advantage whether buying or selling!
Do you get our quarterly newsletter? Click Here to be added to our mailing list (please include your address in the link 'comments' section).
The National Association of REALTORS® (NAR) recently released the D.A.N.G.E.R. Report which stands for Definitive Analysis of Negative Game Changers in Real Estate. NAR commissioned Swanepoel T3 Group, an outside management consulting firm, to conduct an analysis of the threats, opportunities and trends in the real estate industry. According to the DANGER Report, the #1 threat to real estate professionals and the industry as a whole are other agents who are unqualified and/or incompetent. The Report says, "The real estate industry is saddled with a large number of part-time, untrained, unethical, and/or incompetent agents. This knowledge gap threatens the credibility of the industry."
In an article published by the Wall Street Journal on September 12, 2013, the Journal of Housing Research studied 10,065 real estate listings over a ten year period from 1999—2009 using a control for property characteristics such as size and location to isolate the "experience variable," and then compared the results for rookie and veteran Realtors. The study was released by the Journal of Housing Research in May 2012. They divided the listings into three groups; ones listed by agents who have been licensed for two years or less (called rookies), agents who have been licensed for two to ten years, and agents who have been licensed for ten years or more (called veterans). The professor who developed the study became interested in quantifying experience when he noticed an increasing number of agents who chose not to renew their licenses after two years. Real estate agency has "very, very, very low barriers to entry," he says, "but brokers face a steep learning curve and many struggle to reach a level of expertise that is profitable."
Results of the 10 year Journal of Housing Research study show:
• Veteran agents sell homes for 12.4% more than those with less than two years of experience.
• Veteran agents are 1.6 times more likely to successfully sell a listed property.
• Veteran agents sell homes 32% more quickly than those with less than two years of experience.
According to Multiple Listing Service records for South Boulder, the value of my SOBO real estate experience is worth $16,058 to SOBO homeowners!
Of the 2,826 real estate listings of single family homes sold in South Boulder over the ten year period from July 1, 2005, to June 30, 2015, and comparing my results to the results for Realtors that have sold an average of at least one home per year for the last ten years, and to results for Realtors that have sold less than ten properties in the last ten years.
Results of the MLS records for 10 years of SOBO listings sold show:
• My listings sell for $14,153 more than Realtors with ten or more listings sold in SOBO over the last ten years, and for $16,058 more than less experienced agents, based upon the 2015 average SOBO sale price.
• My listings sell 15% more quickly than Realtors with ten or more listings sold in SOBO, and for 22% more quickly than less experienced agents.